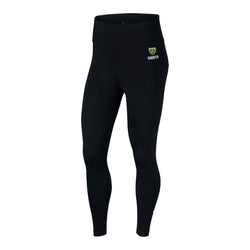 Branded Custom Sportswear
Nike Womens One 7/8 Tight - Fall 23
No matter the workout, Nike One Leggings will be your go-to whether you're hitting the mat or running errands. Made with sweat-wicking tech and at least 50% recycled polyester fibers, these soft leggings help keep you dry. Plus, with non-sheer fabric, you can confidently squat your lowest. The waistband sits below your belly button and has 2 hidden pockets for small essentials. There's even a pocket at the back that's big enough for your phone so you're ready for anything.

The recycled polyester used in Nike products begins as recycled plastic bottles, which are cleaned, shredded into flakes and converted into pellets. From there, the pellets are spun into new, high-quality yarn used in our products, delivering peak performance with a lower impact on the environment.
In addition to reducing waste, recycled polyester reduces carbon emissions by up to 30% compared to virgin polyester. Nike diverts an average of 1 billion plastic bottles annually from landfills and waterways.