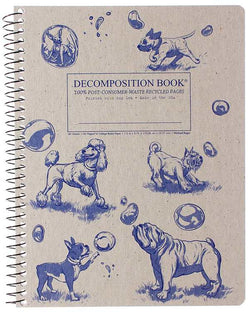 Michael Roger
Recycled Notebook | 100% Post Consumer Waste | Dogs and Bubbles Decomposition Book
Some approach trepidatiously while others get carried away. Dogs and Bubbles playfully pairs pets with shimmering soap suds.

SHEET PRINTING
College Ruled, Lined

PAPER TYPE
100% Post-Consumer Waste Recycled Paper

DIMENSIONS 9.75 × 7.5 × .4 in
BINDING
Spiral

SHEET COUNT
80 Sheets, 160 Pages

INK TYPE
Printed with Soy Ink

WEIGHT 0.9 lbs

COUNTRY OF ORIGIN
USA

Spiral bound Decomposition Books use a versatile spiral wire binding. These spiral notebooks feature 100% post-consumer-waste recycled paper and are printed with soy ink.